Three Sonoma County Wineries Hosting Vineyard Hikes in Alexander Valley
Sip the views while hiking in Sonoma County's mountainous wine region
Several wineries are getting wine lovers out of the tasting room and into the vineyards. Here are three Alexander Valley vintners now offering vineyard hike adventures in one of Sonoma County's most beautiful, mountain-hugged wine regions—just north of Healdsburg. Hiking in Sonoma County is one of the best things to do besides wine tasting, but when you can combine the two…why not? Helpful links to vineyard hikes hosted at other Sonoma wineries in Dry Creek Valley, Russian River Valley and Sonoma Valley are included as well.
Jordan Vineyard & Winery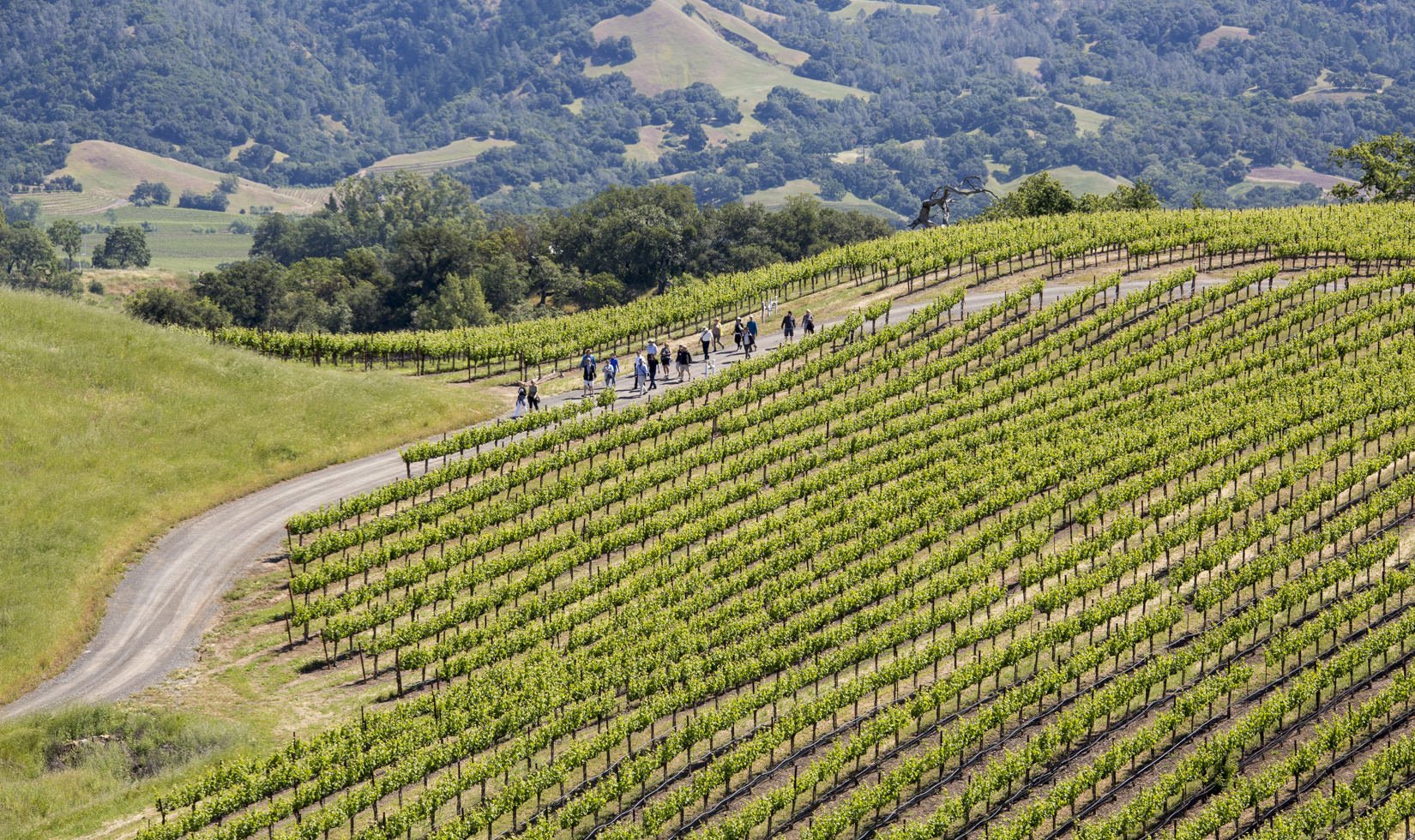 Lace up your hiking boots and experience the ultimate Sonoma County wine country adventure across the breathtaking Jordan Estate, home to Jordan Vineyard & Winery. Your guided journey begins with a continental breakfast at Vista Point, the highest hilltop of this peaceful 1,200-acre ranch, boasting a sweeping panorama of multiple wine regions and mountain ranges—called the "best view in Alexander Valley" by Fodor's. Covering three miles of hills and valleys, this moderately strenuous hike will pass through natural wildlife habitat, sustainably farmed vineyards, and olive orchards, as well as around our secluded lakes, cattle ranch and chef's garden. The experience culminates back at the Winery Chateau for wine country charcuterie paired with Jordan Chardonnay and Jordan Cabernet Sauvignon. Hikes are offered on set dates in spring, summer and fall for $95 per person. View Jordan's events calendar for details.
Jordan Winery, 1474 Alexander Valley Road, Healdsburg, CA, 707-431-5250, 
jordanwinery.com
Seghesio Vineyards
Join Seghesio family members Jim and Ned Neumiller, fourth & fifth generation vineyard managers, as they lead you on an adventure through the 120-year-old vines at Seghesio's Home Ranch estate, which was established in 1895. Explore the Zinfandel and Italian varietals on this historic property as you make your way to the top of Rattlesnake Hill. There will be hydration stops along the way (both wine and water), and hikers hard work will be rewarded with a delicious lunch and wine served at a scenic perch overlooking Alexander Valley. Hikes are offered on set dates and have two price tiers: $75 for general public and $60 for club members. View the Seghesio event calendar for details.
Seghesio Home Ranch, 24035 Chianti Rd, Cloverdale, CA, 707-433-3579,
seghesio.com
Alexander Valley Vineyards
Hike through historic Alexander Valley Vineyards' grapevines on this guided tour, giving outdoorsy wine enthusiasts an opportunity to taste the wines where they are grown. Hikes are offered year-round (weather permitting) for $50 per person. Box lunch is included and advance reservations are required.
Alexander Valley Vineyards, 8644 Highway 128, Healdsburg, CA, 707-433-7209,  
avvwine.com
You May Also Like
About the Author